The 10th annual Beakerhead festival, boasting more than 100 exhibits, runs in Calgary from Sept. 14 to 17
Article content
Since 2013, it's been described as a mash-up of interactive experiences, immersive installations and mind-bending performances that blend cutting-edge science with artistic displays.
And now, Beakerhead is celebrating a decade of wowing Calgarians with its biggest offering yet — and it's all free for attendees to check out.
Article content
The 10th annual Beakerhead festival will boast more than 100 exhibits highlighting developments in science, technology and engineering at three Calgary locations from Sept. 14 to 17.
Article content
The eclectic festival will be held in eight spaces spread out between Contemporary Calgary, Millennium Park and the Telus Spark Science Centre.
Beakerhead's executive director Parker Chapple promises that anyone who is curious, interested in learning, or who enjoys being surprised will be transfixed by this year's festival.
"We like to say at Beakerhead, what you're experiencing is so delightful and surprising that you don't even realize that you're learning," said Chapple, who uses they/them pronouns.
"It's really about making those conversations of STEM (science, technology, engineering and mathematics) accessible to the widest possible audience and making it approachable."
'A community-driven event for the community'
Calgary's STEM-focused festival was created in 2013, with the goal of inspiring "unprecedented human ingenuity," according to Beakerhead's website.
In the decade since then, the event has grown in lockstep with the city, according to Chapple. Over the past nine years, Beakerhead has welcomed 542,000 attendees and reached more than 605 million people online.
Article content
"Everyone has always loved Beakerhead and it was born very big," Chapple said. "I think that, similarly to how people grow, change, adapt and evolve, so too has Beakerhead, because it's a community-driven event for the community."
A centrepiece of Beakerhead this year is BODY, an immersive after-dark installation at Millennium Park throughout the festival. The installation combines sculpture with lighting, special effects, sound and fire to portray human biology, giving guests a deeper understanding of the human form, according to the festival's website.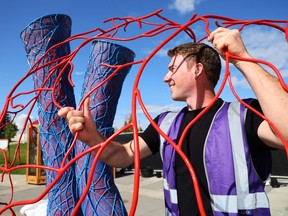 Multiple showcases, demonstrations on tap
To mark the 10-year milestone, Chapple noted the festival's focus will continue to be local, highlighting more than 120 partner organizations and 300-plus volunteers who help make Beakerhead a reality.
One of the festival's highlights will include Academy Skateboard Collective's showcase on Saturday. Partnering with professional skater Dan Mancina, the local collective will welcome visually impaired youth ages 11 to 20 to a workshop on adaptive boarding. The young participants will learn foundational skateboard skills such as pushing, rolling, turning and pumping their boards.
Article content
Gearheads may be interested in Aerodynamic Marvels, a three-day demonstration highlighting modern developments in car engineering and aerodynamics. UCalgary Racing is facilitating the demo at Contemporary Calgary from Friday to Sunday.
Those who have always wanted to attend Burning Man can find a smaller version on Saturday at A Taste of That Thing in the Desert, an artistic celebration described on Beakerhead's website of "radical self-expression through a display of arts, science and engineering."
Also on Saturday, visitors can learn you can teach a new dog old tricks when they meet Flint, Telus Spark's resident robo-dog. Flint, who is Spark's official education ambassador, will teach attendees all about engineering, artificial intelligence and neural networks.
"You'd be hard-pressed to not find something that excites you," Chapple said.
Beakerhead a platform to promote tech industry
But more than just an exciting extravaganza, Chapple said Beakerhead is a platform to promote Calgary's burgeoning reputation as a viable city for tech startups.
Article content
"Particularly here in Calgary, you can see we're on the precipice of a tech boom," they said. "Beakerhead is perfectly poised to align within that and really broadcast to Canada, North America and globally that Calgary is a rich and dynamic place in which to foster this burgeoning tech industry."
Chapple encourages those who would like to attend Beakerhead this week to curate their experience by visiting the schedule section on the festival's website, beakerhead.com.
They also encourage attendees to consider donating, to help ensure Beakerhead remains a free festival.
Beakerhead through the years
Here are some memorable images from past festivals.